Thresholds tour commences, Somerset House, London, May 2017
Go back in time to the dawn of photography with Thresholds, a new virtual reality artwork by Mat Collishaw with support from Paul Tennant at the Mixed Reality Lab at the University of Nottingham.
Using the latest in VR technology, Thresholds will restage one of the earliest exhibitions of photography in 1839, when British scientist William Henry Fox Talbot first presented his photographic prints to the public at King Edward's School, Birmingham.
The experience will be a fully immersive portal to the past; walk freely throughout a digitally reconstructed room, and touch the bespoke vitrines, fixtures and mouldings; even the heat from a coal fire will be recreated. A soundscape for Thresholds includes the sound of demonstrations of the Chartist protesters who rioted in 1839 on the streets of Birmingham, and who can be glimpsed through the digital windows.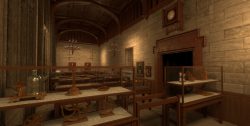 The Threshold tour opens in Somerset House in London on the 18th May, and moves to Birmimgham Museum and Art Gallery's Waterhall between June and September.  Following that Thresholds heads to the National Science and Media Museum, Bradford and Laycock Abbey.
Find out more about Thresholds here