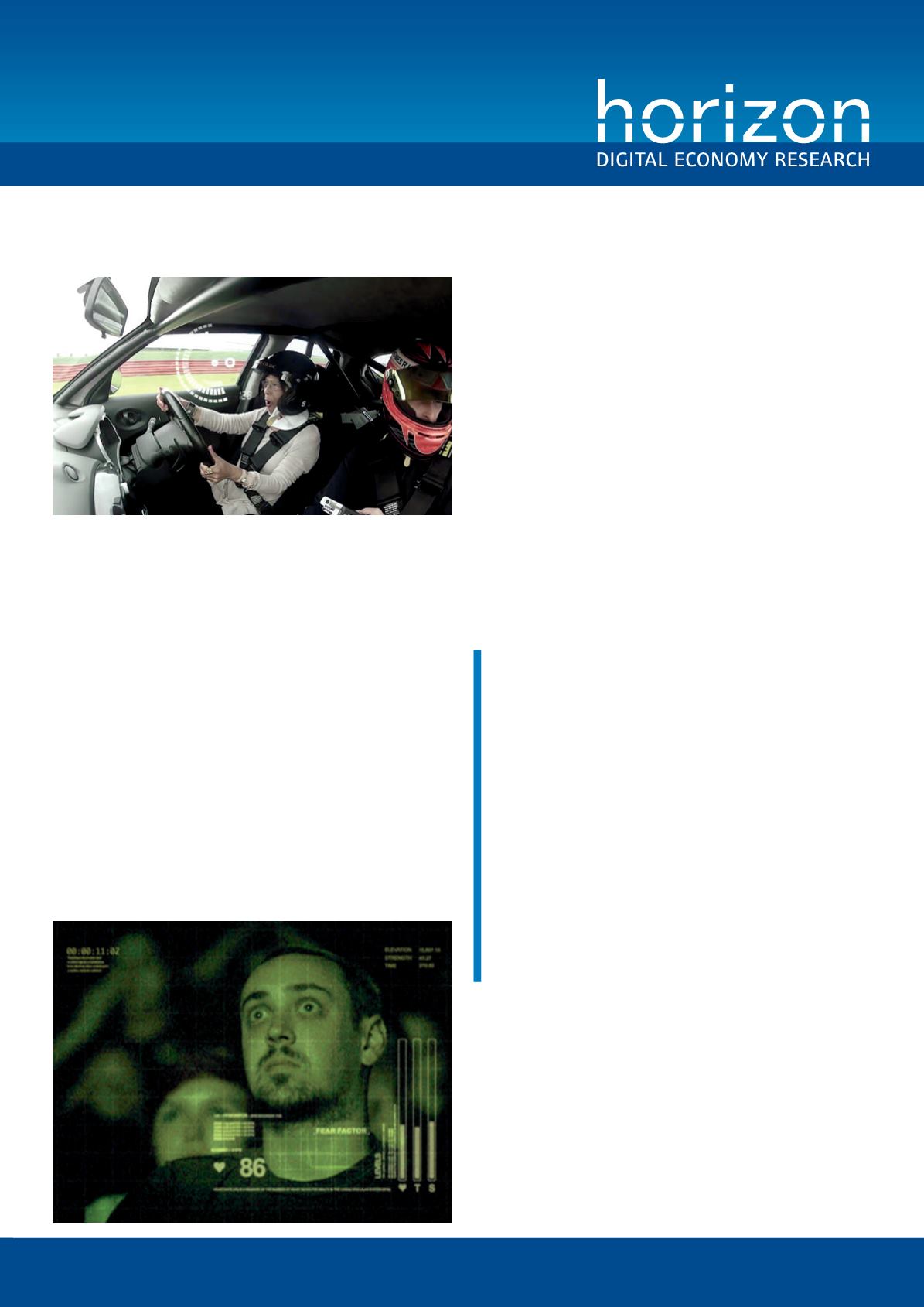 9
The results were incorporated into four short films that appeared on
the campaign website that reached 164,000 consumers.
Working with rides and other thrill experiences has also captured the
public's imagination and proved attractive to science communicators.
The team was commissioned by science communicators to engage
thousands of people with a hands-on experience of the research
at festivals and exhibitions. These included the Research Council's
Pioneers exhibition in 2008, where they exhibited a bucking bronco
ride; the 2011 Cheltenham Science Festival for which they created
PerPing, a breath-controlled 'tennis' game; and the Mayhem Horror
Film Festival in 2009, 2010, and 2011 where they conducted a
series of 'fear experiments' on audience members who watched
classic horror films. The Pioneers exhibit was subsequently
nominated for the International Digital Arts award at Future
Everything, the UK's leading annual festival of digital arts.
The various activities described above have generated extensive
press coverage, impacting on further millions. This includes coverage
in the New York Times (February 2008), Daily Mirror (October
2008), Observer Magazine (May 2009), the BBC's Focus science
magazine (August 2009), Guardian Science Weekly (November
2010), the Independent (August 2011), New Scientist (May 2011),
and the London Evening Standard (June 2012). The research
even featured as the cover article of The Times' Eureka science
supplement in January 2010 and as the cover article of the
September 2013 edition of Communications of the ACM, which
reaches 100,000 computing industry professionals worldwide.
"The use of biodata in entertainment to reveal the hidden emotions
and physical performance of contestants, or provide biofeedback
to augment their experience, is creating exciting and innovative
opportunities for British producers. The requirements for capturing,
analysing, and broadcasting hifidelty data, both recorded and
real-time, is presenting unique technical challenges that are also
relevant to other industries, which include the medical sector and
engineering."
For further information, please contact:
Dr Sue Jones
Email:
s.jones@nottingham.ac.uk
.
"The use of biodata in
entertainment to reveal
the hidden emotions and
physical performance of
contestants, or provide
biofeedback to augment
their experience, is creating
exciting and innovative
opportunities for British
producers."