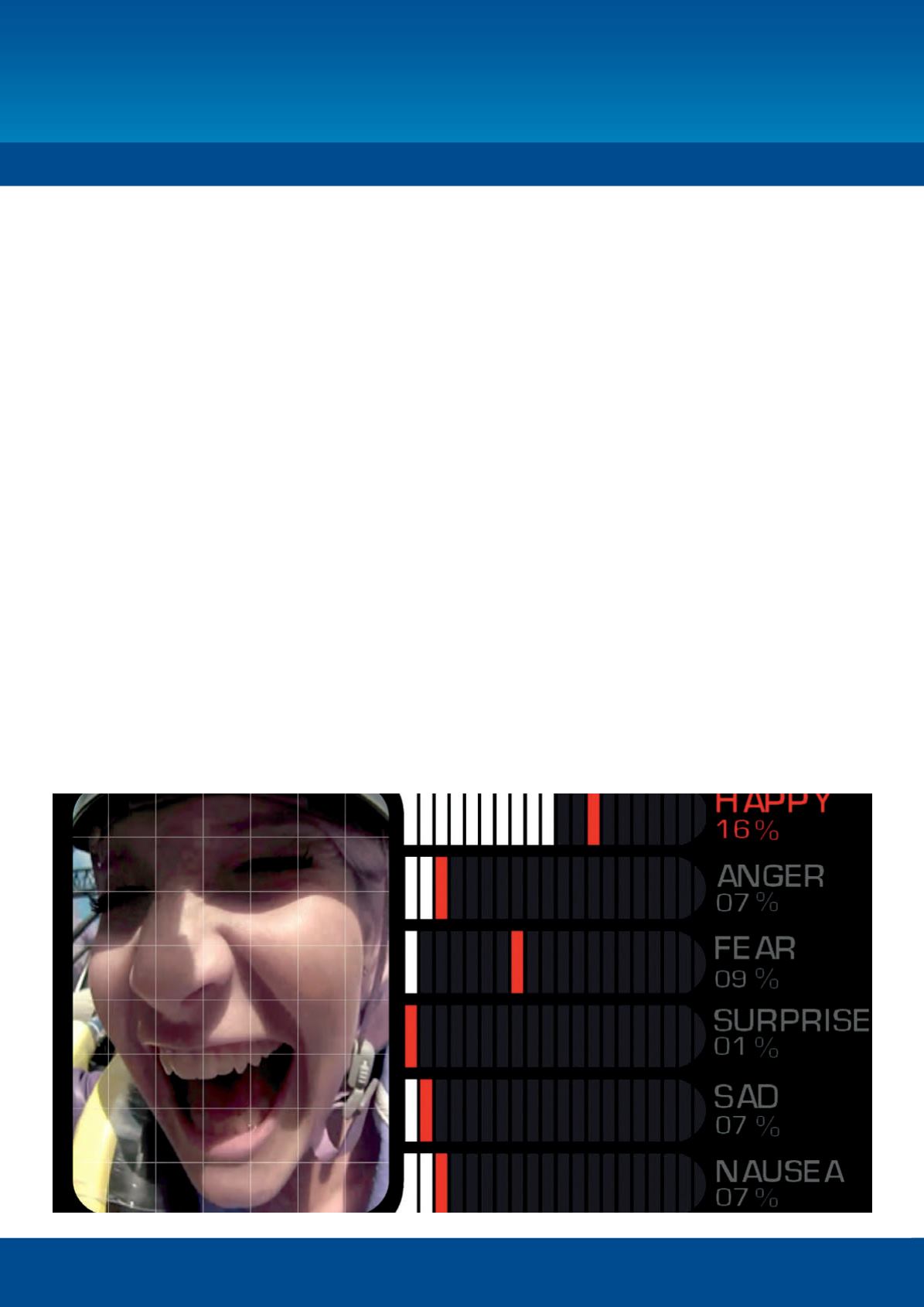 8
H
orizon Digital Economy Research has collaborated with the
artist and engineer Brendan Walker, founder of the creative
company Aerial, to explore how biosensing technologies
can enhance thrilling experiences across the entertainment sector.
Through Brendan's multifaceted Thrill Laboratory performances, they
explored the use of wearable and networked biosensors that capture
heart rate, galvanic skin response (used as a measure of emotional
response), and facial muscle movements, alongside acceleration
data and video, to enable new forms of entertainment.
Brendan says: "There have been two related technical thrusts to this
work. The first has been to establish the underpinning technologies
for capturing various forms of biodata from participants on
rollercoasters and other thrilling experiences and transmitting it to
spectators so that they can share in the experience. The second has
involved also using this captured biodata to create human-in-the-
loop interactive rides in which a robotic ride platform monitors and
adapts to its riders' physiological responses."
This research has had far-reaching impact. As an example,
the results have led television companies to experiment with
incorporating biodata into TV programmes. Their motivations have
been to provide close-up and unusual views of intense experiences
such as riding rollercoasters, but also to help support a common
narrative of the 'scientific' investigation of such experiences.
The lead item on the BBC's Blue Peter in May 2013 shows two
presenters comparing their reactions to Alton Towers' new ride,
'Smiler'. Features were also aired on the BBC One Show, the BBC
popular science programme Bang Goes The Theory, ITV Daybreak,
Discovery Networks International and Discovery Canada. Radio
coverage has included BBC World Service and You and Yours.
"Not only did these various productions build on our published
research and reach many millions of people worldwide," Brendan
says, "but also they employed our researchers as creative,
technology and data analysis consultants, and directly used the
technologies that we have developed to capture, analyse and
visualise biodata."
The same research has been also been exploited by marketing
companies to create innovative campaigns for thrilling products.
Merlin Entertainment, the world's second largest provider of visitor
attractions, used the technology and know-how to market two new
attractions, a 'horror maze' themed around the film Saw VII at Thorpe
Park, and a new interactive ride at The London Dungeon.
Brendan continues: "Summit Entertainment (part of the global film
production and distribution company Lionsgate) engaged us to help
produce a promotional trailer for their horror movie Sinister in which
audience members' 'fear factors' were measured as they watched a
pre-screening of the film.
This led us to being engaged as consultants by the global
advertising agency TBWA to support their "Built to Thrill" brand
activation campaign for the NISSAN Juke car which involved
us conducting a series of thrill experiments to measure peoples'
physiological responses to various driving-related thrilling
experiences."
Broadcasting thrill for television, advertising and public engagement