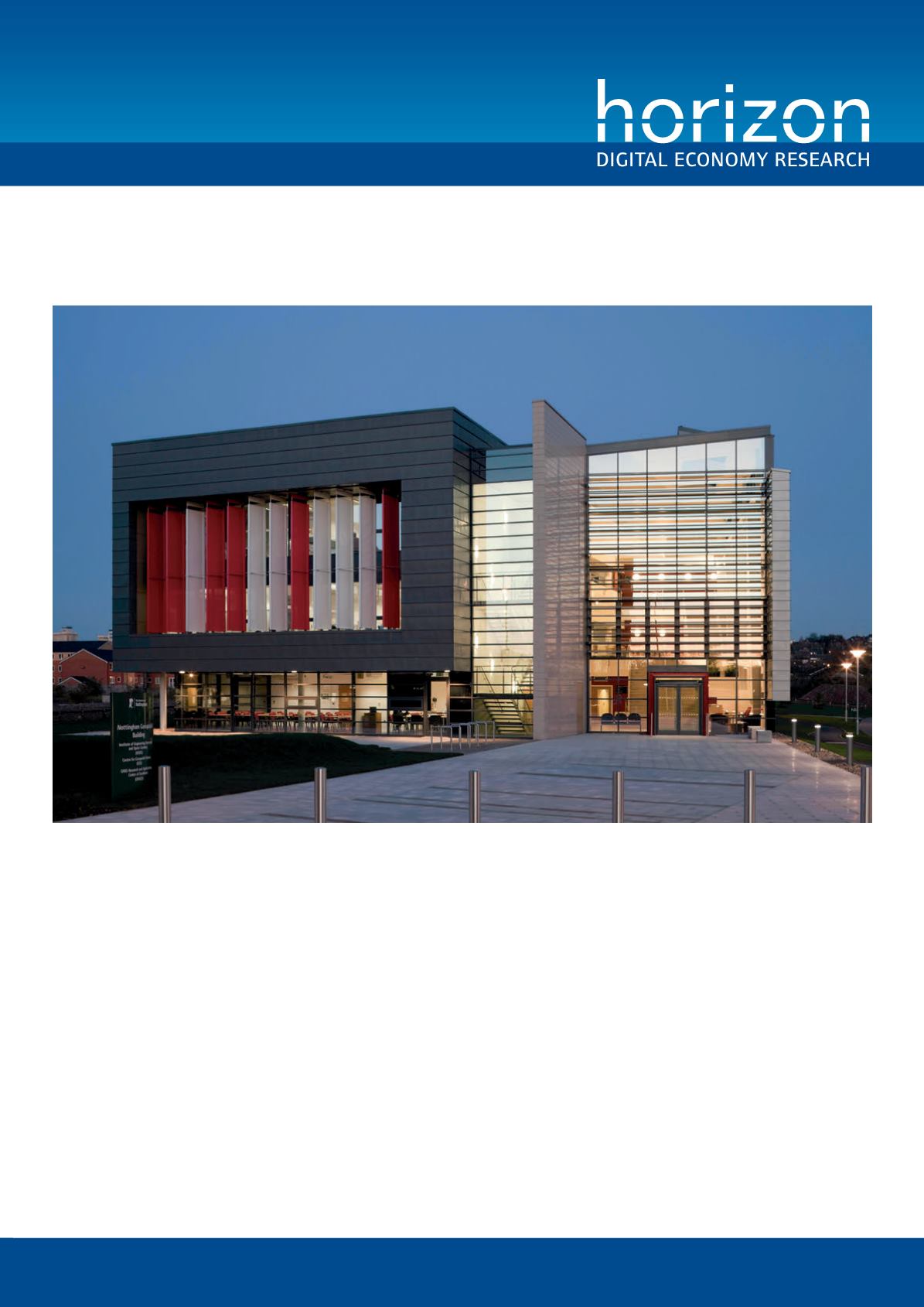 3
W
elcome to this series of impact case studies we hope
will demonstrate the breadth of research that has been
carried out during the first phase of Horizon. We are also
celebrating our success in gaining another five years of follow-
on funding from the Research Councils UK so we can continue
creating impact in conjunction with our partners.
Horizon is a multidisciplinary centre for translational Digital Economy
research that balances the technical drivers in the capture and
analysis of human data with an awareness and understanding of
human and social values. Horizon follows a strongly user-centred
approach undertaking research in the wild, based on principles of
open innovation.
Horizon now encompasses more than 50 researchers spanning
Computing, Engineering, Psychology, Social Sciences, Business and
the Humanities. In addition we have engaged with a wider academic
network of 25 UK and 10 International research institutions. We
have also established a Centre for Doctoral Training that provides
structured training for future leaders in the Digital Economy, and that
will ultimately graduate over 150 PhDs.
Most importantly, we are lucky to have more than 200 organisations
involved in our research in one way or another - including industry
large and small, third and public sector organisations - and it is
through these that we expose our research to real world problems.
The following case studies will give you a taste of our successes,
and we welcome contact if you would like to become engaged.
For further information, please contact:
Dr Sue Jones
Transformation Manager, Horizon Digital Economy Research
Email:
s.jones@nottingham.ac.uk
Web:
http://www.horizon.ac.uk/
Twitter:
@HorizonDER
Facebook:
Horizon Digital Economy Research
Impact Case Studies from Horizon Digital Economy Research
Professor Derek McAuley