Data Journeys Archway experience – Exchange Building, Jubilee Campus, University of Nottingham, 14-17 February 2017
The Data Journeys Archway prototype is a temporary public art intervention, brought to you by experts in the Mixed Reality Lab at The University of Nottingham, in collaboration with artist in residence Andrew Wilson.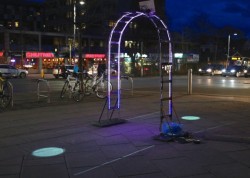 We invite you to step into the interactive digital Archway. You won't miss it – it's 10 feet tall and covered in LED lights! Come and stand in front of the archway where a question will be projected onto the ground. It will be a question for you to think about.  Step through the arch and as you do, it will learn something about you and give you a piece of wisdom in return.
The Archway experience will be available between the 14th and 17th of February in the main foyer of the Exchange.  We look forward to seeing you there!