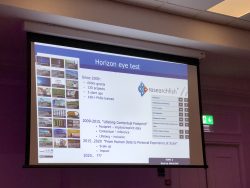 We have been privileged in receiving two rounds of funding from the EPSRC. Our current programme – From Human Data to Personal Experience – ends in July 2020, and in addition to the many ongoing projects creating important impact, we aim to leave a full and varied portfolio of pioneering Digital Economy research.
Our mid-term Review event on the 3rd July at the Hilton Hotel, Nottingham delivered a full agenda which involved a series of research presentations and demonstrations to over 50 stakeholders and Partners.
We produced a mid-term review Impact Highlights brochure in conjunction with and to compliment the event, and will shortly be publishing a video overview of the event.