Artcodes is research that has grown out of a previous research project called aestheticodes. Using the research done in the previous project and partnered with designers based at Central Saint Martins and computer scientists from the Mixed Reality Lab and Horizon Digital Economy Research Institute at the University of Nottingham we wanted to test the software in the public domain. Using various commercial partners and everyday scenarios we wanted to put artcodes out into the 'real world' and test the response.
Through this collaboration we have developed a new interaction technology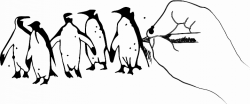 that relies upon drawing and creativity to drive it. We call this the artcode, a paradigm shift in visual recognition technology. The artcode has all of the interactive properties of a QR code but with an in built aesthetic quality. Easy to draw, playful and poetic, the artcode puts the human back into Computer Human Interaction. Images are programmed by observing some simple drawing rules, which once mastered enable the designer to create all manner of interactive imagery. The artcode points to a future, where interactive devices such as smart phones and tablets are triggered by artwork, patterns, motifs and tags that adorn our built environment, our public spaces, our homes, our clothes and our objects.
Our commercial partners were Johnson Tiles and Busaba Eathai. We developed separate projects with both which lead to further developments in the software. At the end of these we wanted to test our developments and so commissioned some large wall illustrations.
In collaboration with Johnson design team we have designed an interactive tile panel that explores the domestic implementation of the artcode technology. A series of design iterations explore the repetition of modern domestic patterns that are both interactive through scanning the artcode designs or purely decorative through use of aesthetically pleasing contemporary designs.
The artcodes design team followed trend predictions by Johnsons design teams, relating to colour, pattern and motif to design interior tiles that have a contemporary resonance.
User groups explored the possible scenarios and interactions we can build into such an object.
The final collection of tiles describe a future where our domestic interiors enable any number of personal and beautiful interactions.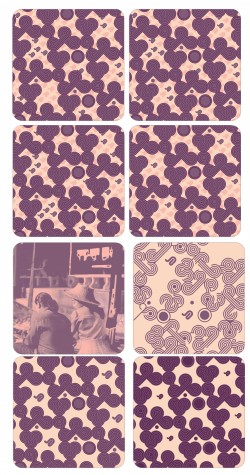 Our collaboration with Busaba Eathai chain of restaurants explored the implementation of artcodes as a service level interactive device in the dining context. The challenge was to develop a series of decorated objects such as tableware, menus, placemats and coasters to enable the implementation of an interactive service in a sympathetic manner to the primary purpose of the restaurant; to serve food!
A series of scenario building workshops with diverse focus groups from designers and marketeers through to managers, waiters and chefs explored resonant implementation possibilities inline with Busaba's 10 stages of service.
The coaster presented here is the entry level interactive device, aimed at incentivizing the loyalty element of their existing app. Users will be offered a range of free offers through scanning the coaster.
Finally we entered a design-led exploration of large interactive illustrations as a novel medium that enables users to engage with digital narratives by scanning with their phone visual elements of static images.  We chose to enable interactivity through the use of a topological marker technology as it allows multiple visual codes to be embedded into an illustration without breaking its aesthetic.
We often encounter large scale public illustrations – from graffiti and street art, to temporary displays around building sites, to large public posters, to murals that depict significant historic or public events. Making these static images interactive through digital augmentations can create new possibilities for the arts and entertainment, advertising and public services. Passers-by could access supplementary multimedia content, explore non-linear stories, leave comments, curate spaces and play games.
We have developed a number of interaction techniques to trigger different digital augmentations – scanning an individual visual item with the camera of a mobile device, simultaneously scanning a group of items, sequentially scanning items and selecting from a range of color filters to remove information from the video feed. We then commissioned teams of graphics designers and writers to produce artworks which incorporate the new interactions. We created a new app called storicodes that enabled users to identify and differentiate between the growth of the project. These were exhibited in a public space during an event and we observed how attendees interacted with them and gathered feedback on their design. Our contribution is to extend the designers' palette and understand the opportunities and constraints that this new medium offers from both the designers and users' perspective.
For more information, take a look at www.artcodes.co.uk
Partners: Johnson Tiles, Busaba Eathai 
Wall Illustration Projects: Designers – Lilli Cowley-Wood, Dan Huggett, James Dawe; Writers – Pippa Hennessey, Alicja Shaw, Carol Adlam