Demand-Side Energy Technologies Upstream (DETU) is a project concerned with exploring the role of end-users in the future of 'smart' energy technologies. These technologies will allow for demand-side management (DSM), a key aspect of most future energy system scenarios. DSM refers to a range of technologies and interventions designed to create greater efficiency and flexibility on the consumption-side of the energy system. Examples include the provision of more information to users to support efficient behaviour, and new smart technologies that can be automatically controlled.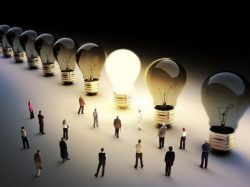 There has been some initial research into public acceptance of DSM possibilities. However, the extent to which individuals support DSM possibilities may vary depending on their role as a consumer, an employee or a citizen. That is the extent to which someone may be prepared to engage with DSM as an individual taking actions may differ from the extent to which they will engage with new workplace DSM systems and policies and from the extent to which they support public policies relating to DSM.  This research plans to examine the differences in acceptance of DSM possibilities depending on an individual's role and the factors that influence this acceptance using mixed methods.
DETU will utilise expert interviews with industry, policy makers and third sector bodies, to scope the currently most likely conceptualisations of DSM in the future across different contexts including that of the individual, the workplace, and public policy. We will also probe the perceived role and importance of the public in accepting and engaging with the DSM conceptualisations highlighted.
This will lead into a survey (n=250) to examine acceptance of DSM possibilities and factors impacting that acceptance. We will examine perceptions and acceptance of a range of hypothetical DSM scenarios and explore a range of potential drivers for acceptance in these different roles, including motivations to engage, perceived risks and benefits and associated uncertainties of this, moral norms, social values, trust and individual differences including age, gender, income, and discipline studied. This has empirical value in feeding into UK energy policy, can inform the technological development and design considerations for DSM possibilities, and will also feed into theoretical ideas regarding differences between individual engagement and policy acceptance.
The Team
Alexa's expertise lies within environmental psychology, social cognition and risk and she particularly applies her research to the domains of energy and climate change. Spence completed her PhD in 2006 and held postdoctoral positions at the University of Nottingham and Cardiff University before returning full time to the University of Nottingham as an Assistant Professor in 2010. Further information can be found on her website.
Caroline has been working for 4 years on a multidisciplinary project on energy saving in the workplace, funded by the Economic and Social Science Research Council. She investigates motivations to save energy at work, reactions to energy displays, and interaction/cooperation around energy use. She is also involved in other projects on environmental behaviours in the home and in food choices. Her theoretical interests derive mostly from Social Cognition and include explicit and implicit attitudes, goals, and behaviour change.
Murray uses his background in sociology and science and technology studies to study the role of digital technologies within social practices: on the changing patterns of life that result, and the implications for governance, specifically in the areas of energy, mobility, and digital exclusion.  Projects include exploring the changing roles of users within near-future smart grids; studying the management of energy use in the workplace; and understanding and addressing digital exclusion in economically-deprived areas. A second, related research interest is in the role of futures in organisations and policy making.
Jamie is Assistant Professor in Risk Management at the Nottingham University Business School. Before joining the University of Nottingham he has previously held research and teaching positions at King's College London, The University of Lincoln, and The University of Hong Kong. Jamie's research is primarily focussed on the theory and practice of risk communication as this relates to such issues as science and technology controversies, emergency preparedness and crisis response, and sustainability. Most recently this work has addressed recent advances and trends in digital information and communication technologies and their risk management implications. Further information on Jamie's work can be found at http://www.nottingham.ac.uk/business/people/lizjkw.html