The IT as a Utility Network+, in partnership with the Food Standards Agency, has funded a new pilot project at Horizon, in collaboration with research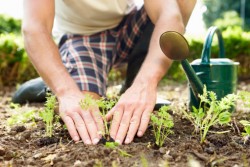 partners at the Royal College of Art. The work is concerned with how digital technologies could be complementary, rather than antithetical, to the pleasures of gardening. The vision is for local communities of urban growers, who have a vibrant history of repurposing items in their environment, to appropriate new technologies for gathering and sharing evidence about growing conditions.
The grant will support two activities. Firstly, workshops will bring together a variety of stakeholders – experts in growing, design and technology – to generate novel ideas for utilising digital data. Following on from the workshop a kit of prototype technologies will be created and tested at a suitable site.
We hope to demonstrate that collecting and sharing information like this could support distribution of locally-produced food and provide national decision-makers like the FSA with greater insights into local ecosystems.
Industry Partners: Barracks Lane; Brighton and Hove Allotment Federation; Community Composting Network, The Guardian; Hammersmith Community Gardens; Royal Botanic Gardens, Kew; St. Anns Allotments; Wireless Things; The National Allotment Society; Plumpton College; Incredible Edible Todmorden; The Victoria and Albert Museum; Writtle College