The Mixed Reality Storytelling project is part of a large programme of work involving research into the Digital Footprints of Objects, and is being delivered by the Mixed Reality Lab of the University of Nottingham.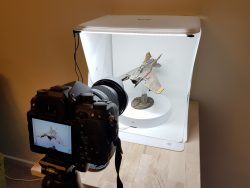 This project is an instantiation of that research expressed in the context of Tabletop Miniature Wargaming. It involves the development and deployment of an interactive exhibit featuring an Augmented Reality – enabled miniature diorama display, together with a miniature photo-booth which creates 3D scans of painted models brought in by visitors.
The exhibit will demonstrate novel and engaging methods to engage and communicate to visitors, the underlying context of the exhibit they are viewing, for instance the crafting process of the miniatures, their background stories and gameplay exploits. Visitors can then contribute their own stories relating to their personal miniatures and share them using similar methods.
Details on the exhibit at the National Video Arcade in Nottingham, can be found on the webpage here and on the project's Facebook page here.