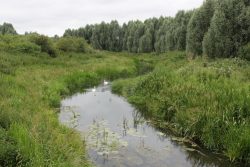 Many people are unaware of the depth and breadth of history shown within local landscapes and how the history shapes the places in which they live or visit.
The 'Artcodes along the Nene' project is one of a number of projects within the Heritage Lottery funded Nenescape Landscape Partnership Scheme and will focus on bringing alive the "industrial landscapes", building on the strong heritage of industry, railways, canals, boats and mills along the Nene.
Artcodes will be used to create a rich and diverse interactive environment that enhances and builds the sense of community in the Nene Valley, bringing hidden heritage alive through innovative digital technologies. The promotion of local heritage and activities will allow people to explore the local area, raising engagement levels and wellbeing of communities close to the river.
The two year project will involve:
A series of scoping workshops with heritage partners and local communities to investigate requirements and ideas for content and develop prototypes of Artcodes deployments.
Working with designers local to the area to develop creative and beautiful designs that reflect the context and landscape of the deployments
Engaging with local people and visitors to the area to assess usability and best content to tell stories.
A launch at Nene Valley Festival in September 2018 to showcase the project.
Training for heritage and creative partners in the use of Artcodes technology, to enable them to create their own experiences in the future, beyond the project
More information on the Nenescape Landscape Partnership Scheme and the 'Artcodes along the Nene' project can be found here.