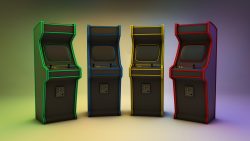 Interaction Tracking in Public Spaces
We propose a framework for tracking the interactions of people with products or things in public or semi-public indoor environments, in an appropriately privacy-preserving manner, while delivering new services and customer experiences.
Engaging in some kind of activity indoors, from varied contexts such as visiting a museum to shopping, or even doing laundry in a domestic setting, involves people interacting with a number of "things" – exhibits, appliances, objects. Understanding the interactions of visitors with and in a space can drive the development of novel experiences but also provide meaningful analytics data for the owner or curator of the space.
Detailed tracking of individuals' movements and behaviours in these spaces is achievable using computer vision and facial recognition, or logging movement of mobile devices via Bluetooth or WiFi. The precise nature of an interaction with a specific object can be obtained by instrumenting objects with sensors. Capturing this data can be valuable to the curators of public spaces as it allows them to understand how visitors are currently making use of the space, which attractions are particularly successful or should potentially be swapped out, measurements of dwell time and flow of visitors etc. It also can potentially support the development of new experiences with value to the visitor – for example souvenirs or mementoes personalised based on the visitor's movements or interactions.
The unilateral deployment of tracking technologies in public spaces can lead to the wholesale and often opaque capture of significant amounts of potentially invasive personal data by the owner of the space, where in fact the data required for the above scenario might be a fraction of this. Here the salient information might merely be a sequence of interaction events that can be read to understand behaviour, leading to a person-centric view of interaction for building personalised experiences but also an object-centric view to drive analytics: "this is a story of your time in the NVA" vs "this many visitors engaged with the game and this is how much fun they had".
The Panopticon project will explore how privacy preserving / transparent interaction tracking can be practically delivered to visitors in a semi-public space, and how the curator of the space can subsequently access and make use of interaction tracking data