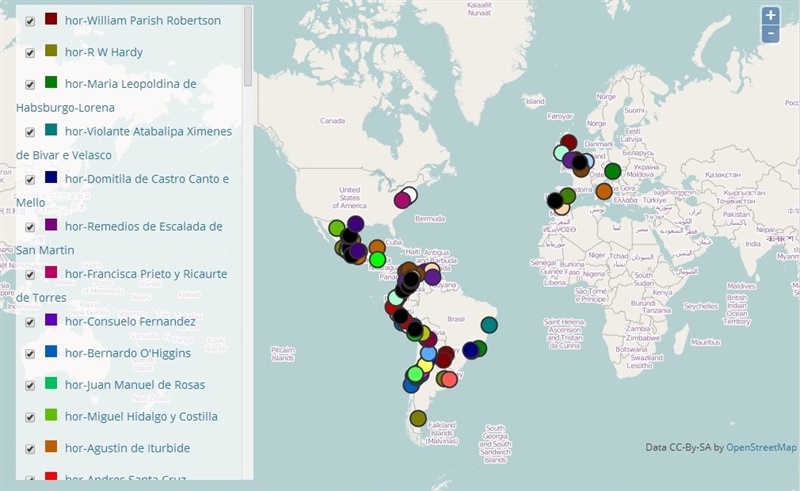 PEP is a pilot project initiated by the AHRC-funded Digital Transformations network Data-Asset-Method: Harnessing the Infinite Archive. The aim of the project is to involve a multi-disciplinary group of researchers in the debate around spatial humanities and open source platforms supporting digital humanities (DH) projects.
The rapid development of digital technologies for representing space combined with an ongoing explosion in potentially relevant data sources to which these technologies might be applied have led to a growing number of DH initiatives that work at the nexus of space and experience, bringing together a wide array of source material that illuminate relationships among place, event, and people, among them: digitized maps, GIS displays, photographs, paintings, public records, newspaper accounts, oral histories, and diaries and letters.
A constellation of recent spatial humanities standalone projects have been produced in a range of institutional contexts: individual scholars, interdisciplinary academic teams, history museums, arts and cultural heritage organizations, community/preservation organizations. Because these projects arise from a wide variety of traditionally unconnected disciplines and institutional settings there is often no coordination among them and very little sharing of lessons learned, common tools/applications.
To address that, the PEP project aims to identify an open-source and repurposable platform, – lowering the barriers to enter DH practice by non-tech scholars and practitioners – and to explore how places, events and people can be captured and represented, identifying the set of affordances/tools/features common to a range of digital humanities projects.
Due to the project timeframe (6 months), the following activities have been planned:
Identification of critical features and technological requirements through a consultation with the stakeholders (art and humanities scholars; interaction designers, practitioners from cultural organisations), and through a survey of spatial humanities initiatives;
Implementation of a case-study through the direct involvement of arts and humanities scholars in the use of technology.
On the basis of previous and current research in Horizon (Art Maps, and Women and Independence in Latin America project) and at the University of North Carolina (DH Press) – PEP project partner –  WordPress has been identified as the platform most appropriate for the project immediate purposes, and DH Press as the plug-in for the case-study. Arts and humanities scholars will be offered space for debate and hands-on experience of DH Press. The results of the PEP project will be presented during the final event of the Data-Asset-Method Network (February 2014).