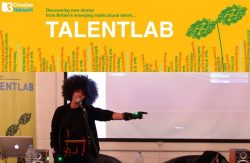 TalentLab is a unique creative talent development network founded by B3 Creative Network. Backed by Creative Skillset and the University of Nottingham's Horizon and Mixed Reality Lab, TalentLab aims to transform raw talent from emerging and established Black, Asian and Minority Ethnic film makers, writers, creative producers and artists across genres in the UK.  TalentLab provides opportunities to hone skills, sharpen focus, gain contacts and confidence to compete in producing multimedia content for multi platform distribution and connect work with audiences on and offline.
TalentLab, Horizon and the Mixed Reality Lab offer opportunities to explore the potential of ubiquitous, mobile and interactive technologies to support the development of emerging creative talent through an 'artist in residency programme' offering digital products to explore new methods of storytelling.
Find out more about the Talentlab 2019 cohort here.