AI for Decision Makers
Complementing the UnBias Fairness Toolkit – one of the outputs from the EPSRC funded UnBias project, the AI4DM is a suite of critical thinking tools enabling cross-organisational stakeholders to implement transdisciplinary ethical and governance assessments of planned or existing AI and automated decision-making systems.
The toolkit fosters participation and brings people together to map AI systems – both existing, and those being proposed – against the organisation's own mission, vision, values and ethics.
The toolkit was commissioned by Ansgar Koene at EY Global Services, conceived, created and designed by Giles Lane with illustrations by Alice Angus.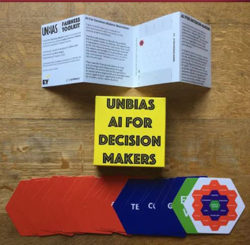 "Quite frankly this is the best bit of communication in this area I have ever seen. It is the perfect complement to the UnBias Fairness Toolkit. Together they can be adopted by any organisation in business, charity, education, healthcare etc etc. Especially in the light of recent events I just wish that every member of the Government and the Civil Service had a set!
I know how difficult it is to refine the language so that it really gets through. You have done a superb job." Lord Clement-Jones CBE  Chair of the House of Lords Select Committee on Artificial Intelligence (2017–2018)
Proboscis is fundraising to manufacture a print-run of at least 500 copies of the AI4DM Toolkit (card deck and handbook), with the aim being that this economy of scale will make the toolkit affordable for many (and much cheaper than ordering the deck only from our existing print-on-demand option).