An introduction to FAILSAFE
FAILSAFE is one of our Consumer Product Campaign projects. It aims to develop an understanding of how robotic technologies can be integrated as consumer products into the home environment, to help people with domestic chores.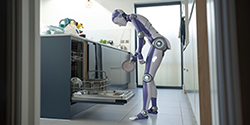 The multidisciplinary project team is led by Ayse Kucukyilmaz, Assistant Professor of Robotics and Autonomous Systems at the School of Computer Science at the University of Nottingham. Ayse is joined by Harriet Cameron, Eike Schneiders, Bern Stahl, Horia Maior, Murray Goulden, Liz Dowthwaite, Pablo Lopez-Custodio, Simon Castle-Green and Muhammad Chaghtai.
Work to explore the potential of using a robotic arm to aid the unloading of a dishwasher in a home environment will commence in the Cobot Maker Space. Workshops with stakeholders, which include users and the manufacturers of domestic appliances, are now being planned. These events will enable the team to gather evidence to better understand what constitutes failure regarding domestic robots. As well as providing important contextualising data about failure, the workshops will also provide specific examples of failure that the team can take forward to the next phase of the project.
Tags:
cobot maker space
,
Horizon Consumer Product Campaign
,
robotics