Benefits of smart energy technologies for vulnerable households workshop – 11 October 2017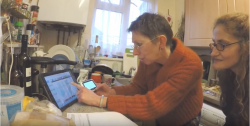 Horizon is supporting a workshop  "Smarter Warmer Homes: smart energy technologies for vulnerable households" organised by the Centre for Sustainable Energy (CSE) on 11th October in Bristol.
The workshop will investigate how the benefits of smart technologies (e.g. smart meter data, and temperature and humidity sensing) be shared more widely, and particularly made available to vulnerable households.  Please register to attend here.
"Domestic smart energy technologies can improve the lives of vulnerable people including the elderly and frail and those with health problems and on low incomes" said CSE's Nick Banks.
"For example, combined with temperature and humidity sensors, smart meters can help ensure householders have the information they need to make wise energy choices. Or carers could use this information to check that vulnerable householders are not under-heating their home."
However, despite having so much to gain from the adoption of smart meters, most vulnerable householders – indeed whole communities – often lack the technical skills and confidence to adopt the smart tech. And for others it's simply not affordable.
"Think of an elderly person living alone," says Nick. "How can the benefits of smart tech data be utilised in order to improve their wellbeing? Can they be encouraged to interact with and interpret the data to make decisions about their heating choices?"
This workshop is aimed at a wide range of interests including social housing landlords, smart tech manufacturers, energy suppliers and networks, fuel poverty organisations, public health professionals, community energy groups, data crunchers, policy makers, academics and similar.
This event is part of Healthy City Week 2017 (7 – 14 October) – an annual programme of activities exploring wellbeing that doesn't cost the earth. Healthy City Week is formed by its contributors, delivered by Bristol Green Capital Partnership and supported by Bristol Health Partners.