Bertrand Perrat rejoins us at Horizon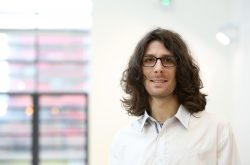 Bertrand Perrat rejoins Horizon to work on "Best Evidence – health information when, where and how you want it"  for the next 6 months, working with Mercedes Torres Torres and James Goulding.
 The Best Evidence project aims to create a patient-centred tool for analysis, synthesis and visualisation of treatment effects tailored to the user's preferences in terms of outcomes (i.e. desirable outcomes or outcomes to avoid). This will bring up-to-date information tailored to patient's preferences and needs.