Christmas with Artcodes Advent Calendar – Workshop, Nottingham
This beautifully illustration, traditional advent calendar isn't your standard countdown to Christmas; learn the latest in Artcode technology with a festive twist.  Register to attend our workshop at Debbie Bryan in Nottingham on the 4th December.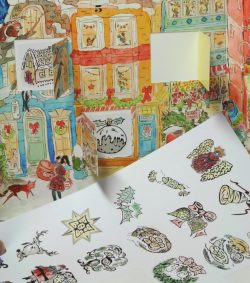 Designed to use with the Christmas with Artcodes app, the calendar features innovative scannable Artcodes that open digital content; with 24 Artcode stickers to put under any door, scan them using Christmas with Artcodes to open photos, videos and other media. Personalise by adding your own digital photographs and favourite website links that you can share with family or friends. Find out more at artcodes.org.uk/christmas
Produced by the Horizon Artcodes project team and the Mixed Reality Lab working with artist Alice Angus and Proboscis.
Calendars are now available to purchase (£14.95) online, via Etsy.