"Climb" performance – Watch the video of the recital
"Climb" combines contemporary piano with elements of computer games to create a non-linear musical journal in which the pianist negotiates an ascent of a mountain, choosing their path as they go and encountering weather, animal and other obstacles along the way.
In association with the Department of Music and the Mixed Reality Lab, University of Nottingham, Maria Kallionpaa (Disklavier) performed and discussed "Climb" on the 8th of June in the Djanogly Recital Hall.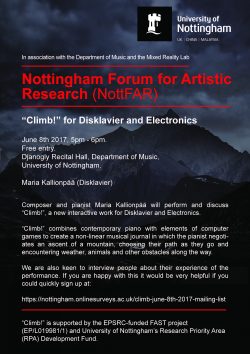 A description of the "Climb" project and the recital on the 8th of June 2017, can be viewed here.