Climb!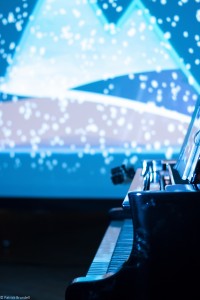 "Climb!" for Disklavier and Electronics, performed by Anne Veinberg and Zubin Kanga.
6pm, Friday 19th January at The Royal Concert Hall, Nottingham. Free entrance.
Bringing a new perspective to the influence of videogames on classical music composer Maria Kallionpää, the University of Nottingham's Mixed Reality Lab and University of Oxford's e-Research Centre present their recent collaboration "Climb!" for Disklavier and Electronics. "Climb!" is a virtuoso piece composed for live pianist, a self playing Disklavier piano, interactive system and visuals which combines contemporary piano repertoire with elements of computer games to create a non-linear musical journey in which the pianist negotiates an ascent of a mountain. Along the way the performer encounters musical challenges that determine their route, battle through uncertain weather conditions, and come face-to-face with animals and other obstacles that block their path.
Pianists Anne Veinberg and Zubin Kanga present two back-to-back performances of "Climb!", each finding their own route up the mountain.
"Climb!" is supported by the EPSRC-funded FAST project (EP/L019981/1) and University of Nottingham's Research Priority Area (RPA) Development Fund.
Watch the Climb! video