COP26 – Visitors invited to create, shape and 'Gift' their conference experience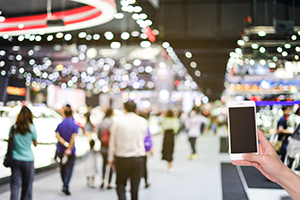 The Gift platform – developed as part of a collaborative 3 year research project funded by the European Union's Horizon 2020 – will enable visitors attending COP26 to create, shape and share personalised digital content from the conference.
'Gift' was developed by researchers at the Mixed Reality Lab at the University of Nottingham and interactive artists at Blast Theory. The platform draws on the practice of 'gifting' as a way to facilitate personalisation and social sharing in the creative space, such as museums and exhibitions.
Nick Tandavanitj from Blast Theory explains "COP26 is a context where the ideas that are shared will potentially have a global impact. So, for COP26, we're rewriting Gift to invite delegates and the public to reflect on someone they love as they explore the exhibitions and displays of the conference. What are the things they find that will be important to someone they love? We hope this will be an opportunity for those attending to share the experience with those close to them and remain focused on what is crucial in the context of the climate emergency."
"It's really exciting to have Gift at COP26. Making an exhibition a shared experience not only extends the reach of COP26 and its important topics and themes, but is also a way for visitors to look at it from a different perspective – through the eyes of someone they love. This may make them think more deeply or differently about a climate issue, or lead them to look at something entirely new" Professor Steve Benford who heads the Mixed Reality Lab told us.
University of Nottingham Press Release here