Creating a Compelling Visitor Experience, 9th March 2017
In this free workshop, aimed at professionals from arts, culture and heritage organisations, participants will learn how to use storytelling techniques to organise the information they want to convey and deliver this content to their visitors in an engaging way. The participants will gain hands-on experience using simple, affordable digital tools to turn their ideas into visitor experiences that are functional and sustainable.  Register to attend here.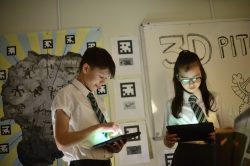 Creating a Compelling Visitor Experience is the second in the Digital Technologies and Your Audience series of free workshops suitable for those working in arts, culture and heritage organisations who are interested in developing new strategies for engaging their visiting audiences using digital technologies. This workshop builds on content and techniques covered in our first workshop in this series, Developing a Strategy for Engaging Visitors (November 2016). Attendance at workshop I is NOT a prerequisite for attendance at workshop 2.
From Summer 2017 we will offer a new suite of workshops, details to follow or contact here.
Workshop leaders
Dr Katharina Lorenz is Associate Professor in the Department of Classics, Director of the Digital Humanities Centre at the University of Nottingham, and she leads, with Ben Bedwell, Nottingham's Research Priority Area Heritage & the Digital. Katharina works on the challenges and opportunities of digital technologies for historical analysis and has published widely on classical art and visual narrative, art historiography and intellectual history, and digital heritage engagement. Since 2015 she has been delivering, with Esther Eidinow, workshops on storytelling for business for Nottingham's Ingenuity programme.
Dr Ben Bedwell is a Research Fellow at the Horizon Digital Economy Institute, University of Nottingham. His research interests are in the effects that the design of technology has on the behaviour of its users, revealed via a grounded theory approach combining ethnography, contextual inquiry and participatory design/co-design with real users. In his current role in Horizon (where he has been a Research Fellow since 2011) he develops and evaluates technologies that enable for forms of visitor engagement on cultural heritage sites, including location-based experiences, visual markers, and BLE/NFC.
Dr Laura Carletti is a Research Fellow at the Horizon Digital Economy Research Institute, University of Nottingham. Her research focuses on digital culture and learning innovation, specifically on the impact of new media and technologies in the heritage sector. Her areas of expertise are public engagement strategies, digital learning, and participatory practices such as crowdsourcing and community archiving. She regularly collaborates with heritage institutions in exploring and designing innovative forms of visitors' interactions with archival resources and online collections. She also has extensive experience in European project management and is a member of the Council of Europeana, the cultural heritage platform funded by the European Commission.