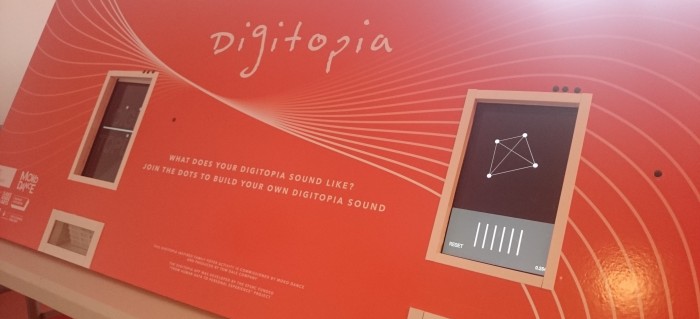 Digitopia Premiere and UK tour
The Digitopia experience premiered on 12 February 2016 at Lakeside Arts Centre, Nottingham, alongside Digitopia the stage show.
The Digitopia experience is designed to complement the stage show and offer a pre- and post-event for audience members. It is targeted at children between 5 and 10 years old, and it links what happens on stage with what happens in the foyer.
The stage show by Tom Dale Dance Company presents two characters embedded in a fantastical world of graphics and sound, taking audiences along on a ride of exploration. The two characters are creating increasingly complex shapes and sound landscapes from the two core geometrical components of points and lines. They are supported in this by an intriguing mix of physical and digital scenery elements developing during the show.
The Digitopia experience picks up the core stage show elements of dots and lines and one key physical element on stage: a pyramid. In the foyer, the audience are presented with a screen featuring a faint outline of a pyramid and a set of lines.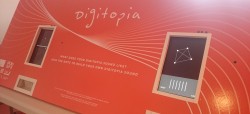 Image 1: The Digitopia experience tablets deployed and branded
The lines can be selected and dragged to join the dots of the pyramid. Each line introduces a musical element, which builds up a soundscape when more lines are added. Once at least one line is present, children can add sound effects and they can create new shapes by distorting the original pyramid.  In doing so, and very much collaboratively, the room can be filled with a joint soundscape created from individual actions over time.
The reception at Lakeside Arts Centre was overwhelmingly positive with a sizeable proportion of the stage show audience exploring the Digitopia experience. The Digitopia experience has now started touring to 16 UK venues in total.
The Digitopia experience was developed by researchers from the Mixed Reality Lab and Horizon in close collaboration with Tom Dale dance company. Future blog posts will discuss this process of collaboration, the technical issues tackled during the development of the Digitopia foyer experience, and observations of the experience on tour.
The Digitopia team: Tony Glover, Adrian Hazzard, Holger Schnädelbach, Laura Carletti, Ben Bedwell
Tags:
Digitopia
,
Media Flagship
,
performing data