Dr Ansgar Koene to act as 'Global Expert' on Debunking Misinformation portal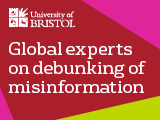 Horizon's Dr Ansgar Koene has taken up an invitation to act as a 'Global Expert' on a Debunking Misinformation portal being hosted by the University of Bristol.
The portal provides the contact details of a global network of researchers across multiple disciplines who are experts on misinformation including: social media and intert, debunking of misinformation. The experts welcome inquiries from media, government or NGOs and can be accessed here.
Take a look at the University of Bristol video 'biggest lies ever told' – the first of a series delivered by expert Professor Stephan Lewandowsky on historic moments of deception.