Dr Laura Carletti elected to the Members Council of the Europeana Network Association
All across Europe, thousands of museums, galleries and archives are digitising their collections and making them available online. Europeana [1] is the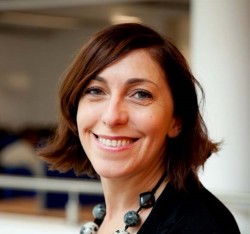 cultural heritage portal that constitutes the access gate to those distributed collections digitised throughout Europe.
After a testing phase, Europeana was officially launched in 2010 and today it connects more than 30 million objects from over 2,500 European institutions. Last year Europeana created the Europeana Network Association to give a clear identity and a formal role to the Network, and its members elected 25 Councillors to form the first Members Council.
In November 2015 new elections [6] took place and seven more Councillors were elected, Dr Laura Carletti, Horizon Research Fellow, among them. 603 (51.7%) of the Association members participated in the elections, and Laura received 124 votes, resulting the third most voted candidate out of thirty.
"I am honoured and excited to be part of the Members Council. I firstly encountered Europeana in 2008 when I was in the partnership of EuropeanaLocal [2], a project aiming at making the digital content provided by Europe's local and regional institutions represented in Europeana," Laura says.
Laura's research [3] focuses on digital culture and learning innovation, specifically on the use of new media and technologies for citizen participation and audience development in heritage organisations. Her slogan during the elections campaign was Europeana: a platform for content and people aggregation.
"As highlighted in the Europeana Strategy 2015-2020, [4] only 10% of the European heritage is digitally available. While endeavours to increase the digitisation of the remaining 90% continue, we need to invest more in designing experiences for the public to explore and engage with the 30 million objects digitally available. There are some great examples already implemented such as Europeana 1914-1918 [5], mixing resources on WW1 from libraries and archives, as well as crowdsourced memories and memorabilia from families throughout Europe. My belief is that we need to experiment more in this direction," Laura adds.
She will officially assume her role as Councillors of the Europeana Network Association from the 1st January 2016.
[1] http://www.europeana.eu/portal/
[2] http://www.europeanalocal.eu/
[3] http://www.horizon.ac.uk/focus-on-research-dr-laura-carletti/
[4] http://strategy2020.europeana.eu/
[5] http://www.europeana1914-1918.eu/en
[6] http://pro.europeana.eu/files/Europeana_Professional/Europeana_Network/europeana-elections-results-2015.pdf