Funding award establishes collaboration between Invisible and Flor de Pequi
Funding received from the Brazilian Fundo de Arte e Cultura do Estado de Goiás for a new collaboration between Flor de Pequi (Brazil) and the Invisible Project, funded through Horizon's Impact Campaign.
Flor de Pequi have just received funding to work with the Invisible team in Brazil, to integrate their current project Curucucu with Invisible – combining our artistic processes and technological experiments around an interactive suitcase.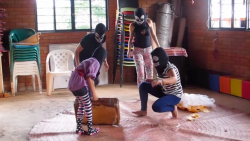 The aim of the research elements of Invisible has been to explore how we might use interactive mirror technologies to develop a new artwork/mobile performance lab. We started with using existing technologies that were developed by the Mixed Reality Lab/Horizon in partnership with Unilever and then developed these technologies towards open source, accessible tools for building a new artwork.
The artwork is being developed in parallel to this research by artist/researchers Rachel Jacobs and Silvia Leal who have been exploring how we might intervene with contested environments, share stories and build collaborations between ex-mining communities in England and Brazil through the interaction with a mirrored interface. Rachel has been working with a local community through a residency at Primary Studios in Nottingham, close to the Jubilee Campus at the University. Whilst in parallel Silvia has been working with a community in Bomfim, Pirenópolis, Brazil developing a partnership with the unique arts organisation Flor de Pequi.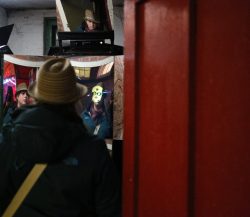 After a series of workshops with artists, students, researchers and local people, the team in the UK -Rachel, Nils Jager, Holger Schnadelbach, Antony Brown (Horizon) and Robin Shackford (an ongoing collaborator with Rachel and Silvia) presented a prototype interactive mirror sculpture at a public event in Primary. This experience weaved narratives written by Rachel, Silvia and Robin in response to the environments they had been working in and in dialogues with specific communities. The sculpture, based on an old-fashioned bellows camera, aimed to reflect multiple and 'expanded' visions of the environment where it was placed and draw audiences into a story that unfolded through a central semi-transparent mirror.
250 people attended the event and approximately 50 people interacted directly with the sculpture, with individuals interacting with the full narrative experience (lasting 8 minutes), couples walking towards the experience together and taking it in turns to interact, and groups playing with ways that the narrative and masks attached themselves to their reflected bodies, turning the experience into a playful game between audience members and the environment where they stood.
This presentation raised many challenges around the technology and creative process, leading to a new phase of experimentation for the UK team, exploring different ways to track audiences, create interactions through the semi-transparent mirrored surface which has led to creating a portable mirror sculpture in an old suitcase with the technology and mirrors inside, aimed to be introduced to an ex-mining community in Nottinghamshire to start a conversation about future work.
Since a creative immersion in Pirenópolis in December 2016, Silvia together with Flor de Pequi have been identifying synergies between the Invisible project and a recent Flor de Pequi project: Memorial de Ossos. Curucucu has emerged as a bridge-building concept between the two projects and a central character/element to connect stories between ex-mining communities in the UK and Brazil.
A second golden suitcase coated and lined with reflective surfaces and textures made by Silvia in Rio de Janeiro, which infer references to colonial history and contemporary mining trades, was posted to
Pirenópolis (600 miles/1000 km away from Rio) along with a letter of creative intent. Young people at Flor de Pequi have responded with a series of movement experiments recorded in digital media and shared with the team in Nottingham, with the aim of reaching future participants and audiences in the UK and Brazil.
Funding applications are also in place for ongoing support of the project in the UK to start working with a community in Nottinghamshire.