Future Machine in Finsbury Park 2021
The Future Machine appeared in Finsbury Park  on Saturday 13th November as the Autumn leaves fell.  Approximately 150 people joined the procession around the park and spoke to the future through the Future Machine. Sounds of the weather were played and people sang with the parakeets – who joined in very loudly! Photo by Reece Straw.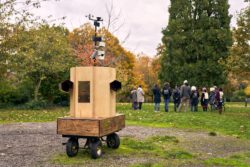 Thank you to everyone who made the day so wonderful and all The Guardians and Makers of the Future Machine… Esi Eshun, Jo Roach
Pedal Power
, Miles Ncube,
Furtherfield
,
Finsbury Park
,
Brick and Olive
,
Rose Levinson
, Ricard Zanoli,
Sebastian Gaete
,
Robin Snackfood
,
Dominic Price
,
Matt Little
, Sherwood Wood,
Zini Pandya
, Jason Kendrick,
Iain Brooks
,
Frank Abbott
,
Wallace Heim
,
Caroline Locke
,
Juliet Bryant
and all the others.
Tags:
future machine