Give a Voice to the Portraits with Horizon Artcode technology
Following two successful exhibitions in Manchester and London, "Uncovering the Invisible" will be on display at Nottingham's Lakeside Wallner Gallery, Mon 25 Jul – Sun 11 Sep.
"Uncovering the Invisible" is a photographic collaboration between British-Mexican photographers Pablo and Roxana Allison focusing on the diversity of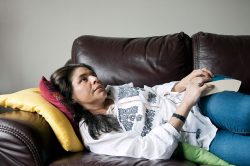 backgrounds and life stories of Latin-American people living in the UK. While Latin Americans contribute economically and culturally to the shaping of British society, they remain unrecognised as an ethnic minority in law. The photographic project aims to shed light on this multi-ethnic group and to support and progress official recognition of this community.
Thanks to an experiment with the Artcodes technology designed by researchers at the Horizon Digital Economy Research Institute, University of Nottingham, you can not only meet members of the Latin American community through this series of striking portraits but also hear them tell their stories.
Artcodes is an image recognition technology that allows you to create beautiful machine readable markers. By pointing your smart phone or tablet at an image you can unlock hidden digital content. For this exhibition, bespoke Artcodes were designed taking inspiration from the outline of the countries of the people portrayed.