Horizon and MRL researchers and artists featuring at Polka Techtopia
MRL & Horizon researchers and artists are showing work and holding workshops at Polka Techtopia, which runs until the 3rd of June.
Try out Artcodes wallpaper during a refreshment break in the café and discover links to music and videos from Polka's previous events.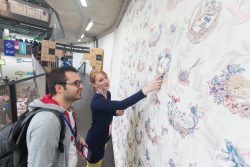 Children can experience Roma Patel's interactive 'Enchanted Forest' with trees, ponds and lily pads that light up, make noise and tell stories.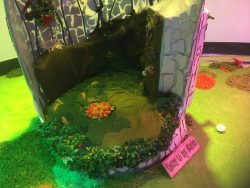 Visit Rachel Jacob's interactive artwork 'The Prediction Machine' which marks 'moments of climate change' in our everyday lives, tracked and recorded by a machine that prints out predictions. Next to it stands the 'Promises Machine' inviting people to write their own promises or wishes for the future.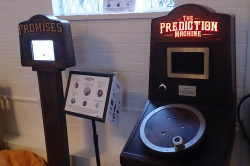 Join Amy Dickins in the 'Make Noise with Technology' interactive workshops, which use digital technologies to make music centred on giving creative power to young people with disabilities.
And don't forget to call in and visit members of the UnBias project at the Digiplay workshops – creating plays that look at different scenarios in the digital world – already featured on BBC Click 'It's Been Emotional'
Tonight sees the launch of Techtopia AFTERHOURS – an event especially for 'grown-ups' to re-discover their 'inner child'. Join Roma Patel at 7pm and take part in a discussion 'Is technology harming child development?'