Hybrid Chocolate Gift
The Mixed Reality Lab (MRL) at the University of Nottingham has teamed up with local chocolatier Studio Chocolate to produce a unique gift of chocolate with an added personal digital touch.  This project sits under the Hybrid Gifts programme which is funded by the EPSRC and aims to create opportunities for UK companies to innovate new products and services in the global marketplace.
The Hybrid Chocolate Gift allows customers to add and create their own content to a beautifully designed, handmade chocolate collection using the Hybrid Gifting Platform.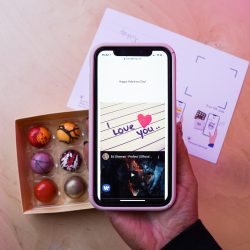 Dr Jocelyn Spence, Research Fellow, MRL said "This past year has shown us more than ever just how important digital platforms are for maintaining personal connections with people. Our Hybrid Gifting platform offers a new way to combine the physical gift with the digital to create a unique and personal experience."
Ellie Wharrad, Le Cordon Blue-trained chocolatier and owner of Studio Chocolate said "It's been really exciting to be able to offer the Hybrid Gift, which has allowed our customers to add a truly personal touch to their gift, which during these difficult times will be extra special."
Link to the Hybrid Chocolate Gift