Launch of Christmas with Artcodes Advent Calendar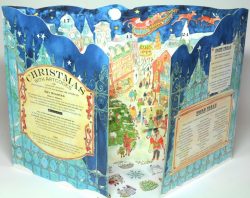 The Horizon Artcodes project team and the Mixed Reality Lab have been working with artist Alice Angus and Proboscis on the production of a unique augumented reality Christmas Advent Calendar.
A beautifully illustrated, freestanding advent calendar, it is traditional in style yet features innovative scannable Artcodes that open digital content, it is fun customisable, and interactive, designed to use with the Christmas with Artcodes app. The calendar comes with 24 Artcode stickers you can put under any doors. Scan them using Christmas with Artcodes to open photos, videos and other media. Personalise by adding your own digital photographs or links to websites, and share with your family or friends. Find out more at artcodes.org.uk/christmas
Christmas With Artcodes requires iOS 8+ or Android 4.0.3+.
Calendars are now available to purchase at a cost of £14.95 online via Etsy.
Register to join our Christmas with Artcodes Advent Calendar workshop in Nottingham on Sunday 4th December