"Managing energy use in non-domestic buildings: Research insights" call for abstracts
TEDDINET-Ctech Non-Domestic Energy Symposium **Featuring Ctech findings launch** Digital Catapult, London, 26 June 2017
Call for Abstracts Deadline: 31 March 2017
Non-domestic spaces account for around one fifth of UK carbon emissions, making energy efficiency and conservation in these built environments of paramount importance. Energy saving in the home is relatively well researched; however an increased focus in recent years on non-domestic buildings means insights are also beginning to emerge around the digital technologies and behaviour change interventions which can reduce energy use in the workplace.
This symposium aims to bring together those from academia, industry and policy to share and discuss these cutting-edge research insights. The symposium will feature a keynote from Professor Linda Steg (University of Groningen) and an expert discussion panel, including Simon Roberts (Centre for Sustainable Energy), Joseph Williams (UK Green Building Council), Judith Ward (Sustainability First). Talks will feature findings from the pioneering Creating the Energy for Change (Ctech) project, and presentations received from the wider research community (see call for abstracts overleaf).
The Non-domestic Challenge
Reducing energy use in non-domestic buildings is a challenge because so many people are involved; building owners, building managers and users of the building can all influence energy demand. Buildings can also be used for very different things, from manufacturing to offices to retail, all of which have different energy requirements. Responding to this challenge, efforts in recent decades have focused on removing energy and environment controls from occupants, and reconstituting them within increasingly sophisticated Building Management Systems controlled by Facilities Management. This top-down, technology-focused approach has had mixed success, and the 'performance gap' seen in new buildings failing to meet their designed-for sustainability targets has become a well-recognised problem.
Academic research highlights the importance of thinking of a building as a 'socio-technical space'– a function of workplace infrastructures, occupant behaviour and organisational culture. Innovative, interdisciplinary research is needed to understand the multiple dimensions of energy demand reduction in these spaces, and bring forth integrations of social and technical approaches. This Symposium features such research, seeking answers to questions about the most effective ways to monitor energy use and use this to reduce consumption; about the most appropriate ways to engage employees, Facilities Managers, company directors and landlords in energy saving measures; and about the key features of non-domestic spaces which demand attention.
About the organisers – Ctech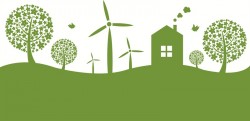 The Creating the Energy for Change (Ctech) project was a pioneer TEDDINET project in the non-­‐domestic digital energy sphere, led by Alexa Spence and funded through the EPSRC. The Ctech project will complete in August 2017. This event will launch Ctech findings and a toolkit to engage office employees in energy conservation. Ctech's focus has been on combining digital information tools and deliberative processes to bring building occupants back into the workplace energy management loop and integrating these within existing workplace organisational structures.
Call for Abstracts (500 word abstract by 31 March 2017)
We invite researchers and practitioners in the UK and beyond to contribute to the Symposium through presentations on – but not restricted to – the following themes:
The Workplace as a Setting including:
Implications of variety of non-domestic environments including offices, industry, public spaces
Dynamic nature of workplaces in terms of changing people, technologies and materials Interventions in Energy Use including:
Understanding and reconfiguring practices of shared energy use
Monitoring and communicating energy use to motivate change
Issues of apportionment, data sharing and privacy Organisational management including:
Roles and influence in the day-to-day and strategic management of energy
The importance of leadership
Use of data, metrics and auditing to manage energy The Changing Context including:
Demand-Side Response in the workplace
Non-domestic energy policy
The future of working practices
Smart technology engagement, acceptance and subversion
To present at the Symposium (send us your abstract) or to register as an attendee (attendance is free but places are limited), please email Cat Magill (Teddinet Coordinator): C.Magill@ed.ac.uk
About the organisers – TEDDINET
TEDDINET is a UK-­‐wide network to support and disseminate interdisciplinary research into the use of ICT in improving energy management in buildings. TEDDINET was initially set up to facilitate collaboration between 22 TEDDI and BuildTEDDI (Transforming Energy Demand in Buildings through Digital Innovation) projects funded by the Engineering and Physical Sciences Research Council (EPSRC). TEDDINET seeks to share the findings of a growing research community in the appropriate deployment of environmental sensors and smart meters and the nurturing of smart citizens who are more aware of their energy use and are acting on that information to reduce energy bills and energy wastage in their daily lives without compromising their health or wellbeing. By bringing together research findings and expertise across different disciplines, projects and sections of the built environment sector, TEDDINET seeks to create a coherent and useful legacy for industry, government and society. TEDDINET commenced in September 2013 and will run until July 2018.