Multidisciplinary Research in Medicine and Healthcare
Pioneering computer vision tools lead to improved infant health care
Dr Mercedes is a Transitional Assistant Professor at Horizon Digital Economy Research and Dr Joy Egede a Research Fellow who completed her PhD within the International Doctoral Innovation Centre.  Both have interests in carrying out multidisciplinary research within a medicine and healthcare context, using innovative machine learning, image analysis and processing techniques.
Babyface: Gestational age estimation tool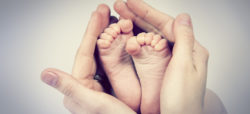 The Gestational Age Estimation project was funded by the Bill and Melinda Gates Foundation and brought together an interdisciplinary team of researchers in the School of Medicine and Computer Science. The challenge was to develop a tool to accurately calculate the gestational age of newborn babies using digital imaging, with the idea of deploying it in countries that have little or no access to ultrasound scanners and trained personnel. State-of-the-art deep learning algorithms that were able to accurately estimate the gestational age of newborns within days, along with a 'Babyface' crowdsourcing smart phone app were developed. The app was used by parents and guardians to upload photographs and anthropometric measures of their babies, in order to collect new securely stored data, to support doctors estimates as to whether a baby was born prematurely. Due to its potential international real-world impact on society, the project received coverage in the national and international press and media, including an article in The Guardian and an interview on BBC Radio Nottingham.
Tags:
algorithms
,
crowdsourcing
,
healthcare
,
machine learning
,
multidisciplinary