Navigating Around Hospitals – Radio Nottingham interview
When was the last time you went to hospital  . . . did you get lost?
Navigating around hospitals, which are typically large, complex and evolving spaces, is often a major source of anxiety, frustration and lost time for those visiting and working there.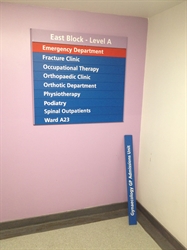 Despite the array of in-hospital navigational information from colour-coded flooring to interactive maps and 'journey planners', getting lost in hospitals is still a major problem for visitors, patients and staff.
This problem is now the focus of a new, 20K collaborative research project between Horizon Digital Economy Research Institute, University of Nottingham and Nottingham University Hospitals Trust and funded by Nottingham Hospitals Charity. It was also the topic of BBC Radio Nottingham's Andy Whittaker show – 7am-9am, last Thursday (5th March), in which BBC reporter, Sarah Julian spoke to both patients and Main Reception supervisor, Yvonne Key at QMC, about their own experiences of 'getting around' the hospital.
Difficulties in accessing different floors, understanding the medical terminology on signs and 'everything looking the same' were common issues, which were reiterated in the subsequent interview with Dr Nancy Hughes, Research Fellow at Horizon and Dr Dominic Shaw, Respiratory Consultant at NUHT. In addition, Dr Hughes highlighted the difficulties of inconsistent, temporary or redundant signage and limited or ambiguos navigational information in the hospital letter, whilst Dr Shaw pointed to the difficulties in delivering up to date information in-line with constant departmental re-configurations.
A variety of potential solutions, both technological and otherwise were discussed, from a ward level navigational app for staff; QR codes on  hopsital letters to provide adaptive, locative information for patients, through to simply increasing the visibility and presence of the Volunteer 'meet and greet' service.
To listen to the full coverage follow: http://www.bbc.co.uk/programmes/p02jts10#auto