Oscillate at 'Parallel Worlds', V&A – 25th November
Oscillate is an immersive interactive artwork based on two popular entertainment technologies:  the multi millennia-old rope swing and the 21st century VR headset – the former designed to excite the vestibular system, the latter designed to excite the visual cortex. A solitary experience performed to others.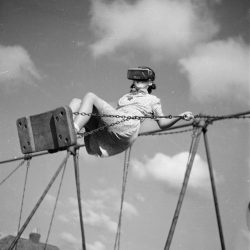 An opportunity to see and ride Oscillate will be available during the 'Parallel Worlds' programme at the V&A this Friday, 25th November between 6.30 and 9.30pm.
More information can be found here.