Out of their minds: Nottingham research used in thrilling ride that adapts to riders' brain activity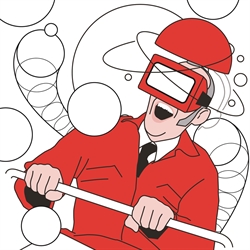 Thrill seekers brave enough to test drive a new mixed-reality ride will only have themselves to blame if they find it a little too wild for their taste.
For the new attraction uses research from The University of Nottingham to adapt the experience to the rider's own brain activity.
The new ride — Neurosis — has been developed by technology-inspired performance artist Professor Brendan Walker, a principal research fellow in the University's School of Computer Science, dubbed the 'world's only Thrill Engineer'.
Neurosis will receive its world premiere at the FutureFest festival taking place in London this weekend.
Full story at: http://bit.ly/1Ahs7Ky