Pepita to present her research at MedicineX CHANGE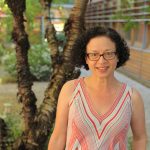 Horizon Research Associate Pepita Barnard travels to  California, USA later on this month to attend MedicineX Change  – a world-leading patient-centred Health Tech Conference which introduces innovators who are working to drive health care throughout the world.  Pepita has been invited to run a workshop, which will include a presentation of her work 'Professional' Perspectives of Considerations Identified by Young Adults for Undertaking Whole Genome Sequencing and Sharing Results' Information'.
More about Pepita's research can be found here.