Performing the Future – join our meeting under the blossoming cherry trees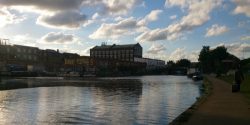 Performing the Future is a project exploring how we can envision positive futures in response to the anthropogenic climate and environmental change happening now on planet Earth, caused by humans, our industrialisation and reliance on fossil fuels.
Involving a series of experimental artist-led labs, public labs, research based workshops and a national tour of the extended version of artwork The Prediction Machine, the project takes place between June 2017 and June 2018, and crosses five English regions – Nottingham, Cambridge, Liverpool, Oxford and Cumbria.
The next planned activity involves a meeting (open to all) under the blossoming cherry trees in Christ Church Gardens – a small memorial park opposite Primary Studios in Nottingham.  Watch this haiku video and get involved (a decision on the date of the meeting will take place when its agreed that the trees are blossoming!).  Meanwhile, keep a watch on the trees and take part in the debate.