Preview of 'The Prediction Machine', Liverpool, 22nd June 2017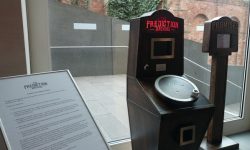 The Prediction Machine  is returning to FACT, Liverpool as part of The New Observatory Exhibition on the 22nd of June. The machines will be exhibited with a few new additions including opportunities to sign up to receive updates about your predictions.
The Prediction Machine is an interactive artwork that marks 'moments of climate change' in our everyday lives, tracked and recorded by a machine that prints out predictions based on end of the pier fortune telling machines. Next to it stands the Promises Machine inviting you to write your own promise or wish for the future, find out more about the science behind the predictions and take part in the new addition, the Future Machine where you can sign up to receive messages from the future as your prediction unfolds.
The Prediction Machine has been created by Rachel Jacobs, in collaboration with Matt Little, Ian Jones (Sherwood Wood), Matthew Gates, Robin Shackford, Juliet Robson, Dr Candice Howarth, Prof Rob Wilby and Dr Carlo Buontempo, Lucy Veale, Upesh Mistry, Thomas Steffen, Chris Sweetman, Stephen Flood and John Barton, and participants in all of the parallel workshops. Developed with the 'Performing Data' research team and Dominic Price at the Mixed Reality Lab/Horizon Digital Economy Research, University of Nottingham. With financial support from the Arts Council of England, University of Nottingham, EPSRC Impact Acceleration Account, EPSRC, RCUK and Radar LU Arts.
More information about The Prediction Machine can be found here.