Sound and Movement #SAM update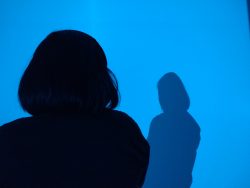 Sound and Movement is a dynamic work in collaboration with the Mixed Reality Lab and DeNada Dance Theatre. Through out this year we will be conducting experiments with the general public looking at how physiological data is affected through environmental change and performance.
For the last 2 weeks #SAM experiment could be found in the basement of Birmingham Open Media. 37 participants have given their heart beat and sweat to this project, which I am very grateful for. As with all experiments participants did not react in the way we thought. This of course means the analysis of the data is going to be much more fun.
For the next month we will be looking at this data. The we will be creating prototypes for the next experiments in May, which will be about movement, interaction and physiological data.
Thanks to Birmingham Open Media for the use of their space as well as all their help, and of course thanks to the participants.
Looking forward to the next stage of the project. If you would like a more detailed update please email diane.wiltshire@gmail.com and you will be added to the mailing list.