Sound and Movement – update on experiments, May 2017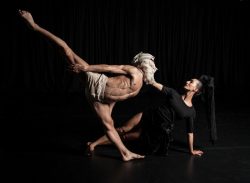 Last week saw DeNada dance join me at Birmingham Open Media (BOM), for the start of the Sound and Movement experiments. Participants have commented on how beautiful it is to watch DeNada in action. I must thank both the dance theatre company and the participants for contributing to this experiment.
We are here for one more week, so if you would like to see DeNada in action while adding your data to the experiment then please email me at diane.wiltshire@gmail.com, alternatively, you can ring BOM directly on 0121 643 5016.
The experiments will be analysed with the help of the Mixed Reality Lab at Nottingham University and will contribute to the final performances in September.  There is no charge to see the acclaimed DeNada dance theatre this week. The experiments will take ten minutes, the final performance will be half an hour.
Without giving too much away and influencing the data, the experiments are looking at how performance affects physiological data and the perception of the audience.
The language of interaction is a rich topic which we hope will not just contribute to a wonderful performance later this year, but also bring insight into other areas of technological development from gaming to applications in health and wellbeing.
Tags:
performing data