The Coral Garden by Makers of Imaginary Worlds
Interactive artists bring together old and young in St Anns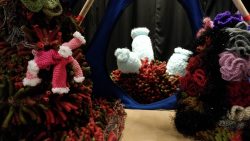 Nottingham based company Makers of Imaginary Worlds are proud to present their new interactive installation The Coral Garden, opening at St Anns Library from the 12th – 19th February 2020 as part of The Festival of Science and Curiosity.
Set in a four meter interactive dome The Coral Garden connects children with exciting technology and responds to their touch. Traditionally crafted hyperbolic crochet corals have been hand made by five Nottingham 'Knit and Natter' groups from St Ann's, Bilborough, Strelley, Nottingham City and Bullwell. The Corals are interwoven with modern technology to create a truly engaging experience.
Speaking about 'The Coral Garden' founders of Makers of Imaginary Worlds Roma Patel and Rachel Ramchurn said 'It has been wonderful to get the opportunity to work within the community, we cannot wait to see local children light up The Coral Garden with their voices and see what sounds they create tickling the crochet corals.'
Venue: St Ann's Library, St Ann's Valley Centre, 2 Livingstone Road, Nottingham, NG3 3GG.
Dates:
12-14 February 12.30pm – 6:30pm
Special Day for young people with Special Educational Needs and Disabilities:
15th February – 9am – 1pm
17-19 February- 9am – 6:30pm
 Open Event and Press Launch with The Sheriff of Nottingham Cllr Patience Ifediora on
Tuesday 11th February at 1.00pm.
 Special Event The Lord Mayor of Nottingham, Councillor Rosemary Healy Thursday meeting local crochet Knit and Natter group 13th February 2.15pm.
The Coral Garden has been created in partnership with SSBC (Small Steps Big Changes), University of Nottingham Mixed Reality Lab, Lakeside Arts and funded by Arts Council England.