The Future Machine – invitation to event
Looking for things to do in November?  Celebrate the arrival of autumn with The Future Machine procession in Finsbury Park, London on Saturday 13th November, 11am – 3pm. The procession will be slow with opportunities to rest and come and go!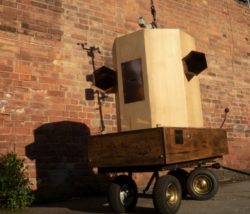 11am – Meet outside Furtherfield Gallery (next to McKenzie Gardens) in Finsbury Park (N4 2NQ)
11.30am – The procession will begin, led by Future Machine and the artists Rachel Jacobs, Esi Eshun, featuring poet Jo Roach.
3pm – A music performance celebrating the weather will take place outside Furtherfield Gallery or online, led by musicians Alexandre Yemaoua Dayo, David Kemp and The Future Machine
Please check the website or outside Furtherfield Gallery for more information on the day.
Due to the rising Covid-19 infections please take a lateral flow test to check you are Covid free before coming along and bring a mask.
To continue to receive emails about the Future Machine and updates about the event please subscribe to our email list here: www.whenthefuturecomes.net/subscribe