The Undiscovered Island is back!
Our Partners, Makers of Imaginary Worlds are pleased to announce that their successful sensor, underwater world – The Undiscovered Island – will be making an appearance at Theatre Hullabaloo in County Durham.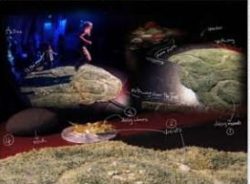 The Undiscovered Island followed on from research investigating the role that mixed reality scenography and experiences played in fostering agency and participation in Theatre for Early Years (TEY).  Background on the Undiscovered Island and the research leading up to it can be found here.
Between the 19th September and 11th March 2023, children and adults can become adventurers exploring story pods, musical stepping stones and then relax in the coral garden. The installation is suitable for children aged 0-10, and their grown ups of course!
This is a free activity and there is no need to book. Please be aware that during busy times, there may be a short wait.  More details can be found here.