Unpacking the Recurrent Value of Digitally Augmented FMCGs
Fast-moving consumer goods (FMCGs), or consumer packaged goods such as food, are products that are sold quickly and at a relatively low cost. They are typically characterised as being purchased frequently by consumers with little engagement in the selection process, due to habitual purchase and low cost. The market for snacks and drinks is large, with the average UK consumer drinking 79L of alcoholic beverages and eating 5.4kg of snack food per year. Snacking and drinking are activities frequently partnered with watching television or movies or socialising with friends.
Our project 'Unpacking the Recurrent Value of Digitally Augmented FMCGs' will investigate how novel, but increasingly widespread, digital technologies such as mobile phone-based augmented-reality, can responsibly improve the value in use of these FMCGs, for example by providing more information, a playful or a mindful experience.
From a producer's perspective, food FMCGs provide little scope for physical product personalisation or customisation, and as such are typically not considered "premium" brands. A simple instantiation of the product (such as branded in-game skins or other perks) would provide immediate perceivable value to the consumer in a digital context. The experience of FMCGs can however be enhanced with the addition of data and digital interactivity at the point of use. Third-party applications such as Giki present digital footprints that provide a means to "reconnect" consumers with the origins of their food through digitally mediated provenance with a sustainability focus, whereas Yuka presents an alternative perspective of ingredients and allergens. These digital footprints are "overlaid" by scanning the existing product barcodes.
Our previous work on hybrid gifts demonstrated that augmenting a generic physical product (albeit a relatively expensive artisan box of chocolates) with digital content can elevate its value and support differentiation and personalisation. We have also shown how a mass-produced FMCG chocolate product can be wrapped in personal digital content to deliver a nostalgic experience, with both experiences delivered through a mobile application accessing linked digital content via an included QR code "gift card".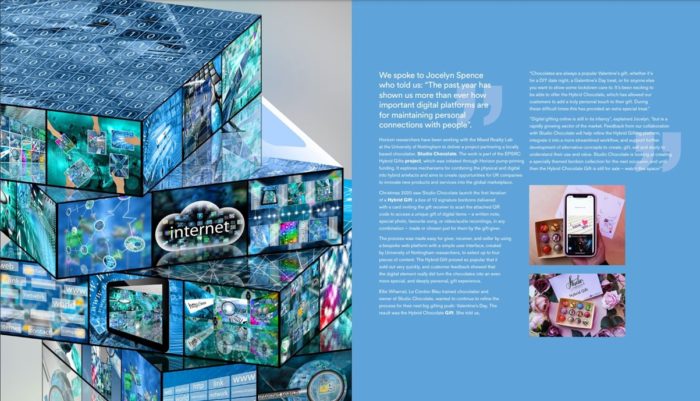 In this project our focus on augmented reality to enhance the consumer experience will directly address the challenges around involving deeper combinations of physical and digital materials. We will move beyond simple, singular instances of marker–based augmented reality to consider how digital content can be integrated into the consumption experience. Alternative forms of augmentation such as filters in the context of embodied product interactions of unwrapping, sharing, turn-taking and re-visiting will be explored. We will also investigate how consumers experience two new hybrid products, both "in the world" through the launch of a new product, and as a mock up or prototype used in a controlled domestic setting. 
Finally, we aim to investigate how value in use arises from hybrid products verses their physical counterparts. By considering notions of hedonic, utilitarian and social value we aim to speak to some of the challenges for manufacturers around differentiation, customisation and responsible innovation.
Unpacking the Recurrent Value of Digitally Augmented FMCGs runs from 1st March 2023 until 30 September 2024 and is led by Martin Flintham, Associate Professor in Computer Science at the University of Nottingham. Martin's work focuses on human-computer interaction and his interests include mixed-reality for playful and serious experience design, smart products and human-food interaction. He is joined by Chris Greenhalgh, Boriana Koleva, Jocelyn Spence and Emily Thorn.
This project sits within Horizon's Consumer Products Campaign.
Tags:
augmented
,
data
,
digital
,
FMCG
,
Giki
,
hybrid gifts
,
responsible innovation
,
Yuka