VR Playground Tour – first stop at the Norfolk and Norwich Festival, May 2017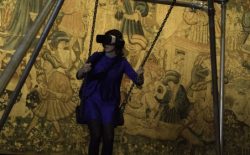 WORLD PREMIERE
Don a VR headset, jump on a playground swing, and be transported inside an experimental virtual reality ride created by the world's only Thrill Engineer, Professor Brendan Walker, and his team of Thrill Laboratory technicians.
You may find yourself riding on the back of a giant mechanical jellyfish or atop a lumbering robot, you'll find out when you get there!
Thrill Laboratory is a collective of artists, designers, engineers, scientists and technologists who have been perfecting the art of creating new forms of thrilling experience.
VR Playground can be experienced at the following sites in Norwich:
Castle Mall
FRIDAY 12 – FRIDAY 19 MAY, 11am – 6pm
Sainsbury Centre for Visual Arts
TUESDAY 16th – FRIDAY 11am – 5.30pm
SATURDAY & SUNDAY 11am – 4.30pm
The Adnams Spiegeltent
WEDNESDAY 17 – THURSDAY 25 MAY (EXCEPT THURSDAY 18 MAY), 6 – 10pm
FRIDAY 26 MAY, 10am – 10pm
SATURDAY 27 MAY, 10am – 5pm & 7pm – 10pm
SUNDAY 28 MAY, 10am – 6pm
Chapelfield Gardens
SATURDAY 20 & SUNDAY 21 MAY, 12 – 6pm
THURSDAY 25 – SUNDAY 28 MAY, 12 – 6pm
The Forum
MONDAY 22 – THURSDAY 25 MAY, 12 – 7.30pm
More information about the VR Playground project can be found here.