VR Playground Tour swings into Norwich Rail Station as part of the Norfolk and Norwich Festival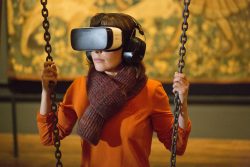 Read about the VR Playgrounds first port of call at the Norfolk and Norwich Festival here.
The swing moves to a number of venues throughout the festival, including Castle Mall, Sainsbury Centre for Visual Arts at the University of East Anglia and Adnams Spiegeltent in Chapelfied Gardens.
Look out for the swing at the Greenwich and Dockland Festival from 23rd June – 8th July.