Welcome Elena
We are delighted to welcome Elena Nichele to Horizon. Elena joins us as a Research Fellow and has cross-disciplinary expertise and interests, combining Linguistics and Marketing. She was awarded her PhD in Applied Linguistics from Lancaster University in February 2020 and has been researching perceptions, on different topics, often expressed with the aid of technology.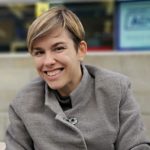 From a methodological perspective, Elena's expertise comprises Corpus Analysis and Discourse Analysis, which she applied in her thesis and research collaborations, combining corpus-informed analysis and text analysis. Through her PhD research, Elena developed a sound knowledge of corpus-linguistic methods as well as becoming very well-versed in systemic functional text analysis, especially in using an appraisal framework.
In her PhD thesis, she focused on Computer-Mediated Communication and Corporate Communication. She specifically explored the role of the nationality of the cuisine in online evaluations of dining experiences, questioning the impact of authenticity and other factors on the reviews. The main contribution of her research was a model, pinpointing all the meal components which play a key role in restaurant reviews, taking into consideration the cuisine served. Through her analysis and the model deriving from it, she filled theoretical gaps in the conceptualisation of authenticity. Ultimately, she contributed to both business communication and research into consumer attitudes and ratings, providing insights on the expectations, perceptions and evaluations of foreign cuisines.
During her PhD, Elena worked both within and outside the academia, contributing to different cross-disciplinary projects. She examined Law student feedback, pinpointing their quality perceptions and expectations and collaborated with Lancaster University Colleges to unveil perceptions on living and learning communities. In addition, she consulted one of Lancaster University's spin-off companies, which specialises in text-based analysis of consumer attitudes.