Young people call on government for greater digital rights
New research co-authored by The University of Nottingham, has, for the first time, captured the policy recommendations of young people in relation to their digital rights.
A report, The Internet On Our Own Terms, found that children are calling out to be treated by the same moral and social standards online as they are offline, and would welcome a regulatory framework to help ensure that their experiences online are not only safer, but happier. Specifically, their bold policy changes to deliver greater digital rights include:
• measures to treat children's offline and online rights equally;
• clearer regulations to govern data usage and storage, and online Terms & Conditions;
• greater transparency;
• comprehensive digital education; and
• A digital ecosystem that considers their happiness, as well as their safety
Commissioned by 5Rights, which takes the existing rights of young people and articulates them for the digital world, and written by researchers from the Universities of Leeds and Nottingham, the report places young people at the centre of a policy debate typically dominated by 'expert' adults and a discourse of fear.
The innovative project was designed around two principles of exploration – deliberation and dramatisation – with young people asked to put the Internet on trial. Through carefully orchestrated 'youth juries', under-18s from across the United Kingdom asserted that they:
• wish to have meaningful control over their data;
• wish to be offered more visible and trustworthy support;
• wish for choices that they make online to be meaningful and transparent; and
• wish for comprehensive digital education – not just e-safety.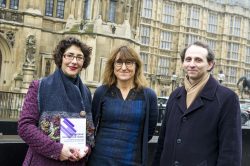 Dr Elvira Perez Vallejos, Senior Research Fellow at the Horizon Digital Economy Research Institute, University of Nottingham, added: "The 5rights Youth Juries create a safe space for children and young people to reflect upon, and to shape, tomorrow's digital world. This innovative research illustrates how working in partnership with young people ensures that outcomes are relevant and useful. We are already recruiting young people for the next wave of youth juries and designing similar interventions to work with parents and educators."
Baroness Kidron, founder of 5Rights, said: "Young people have been given a voice in the debate about their digital rights. They have spoken loudly and clearly. They want the same deal online as they receive offline, they want more control over their data, and they want internet companies to treat them fairly and face consequences when they don't. These are recommendations straight from the hearts and minds of young people. Policymakers and digital companies should pay heed, as we seek to build an online environment for young people that is both safe and empowering."
Professor Stephen Coleman, Professor of Political Communication at the University of Leeds, said: "Attempts to find out what children and young people think about things that affect them are often limited by pre-determined assumptions on the part of researchers in search of simple, snapshot judgements. My aim in designing the youth juries was to give young people an opportunity to go beyond their first thoughts and deliberate about what really matters to them and what can be done about it. I'm excited by what we found: that young people are capable of refined thinking about what's fair and what's unfair."
This report follows the publication on 4th January 2017 of the Children Commissioner's study into how well children are prepared to engage with the internet, Growing Up Digital.
Anne Longfield, Children's Commissioner of England, stated: "The Internet is an everyday part of life and an incredible force for good but, as this important report makes clear, too often children are left to learn about it on their own. We need to make sure children have the resilience, information and power to prepare them for life in today's digital world.
"It is vital that all children are taught about their digital rights and responsibilities in schools, that the social media giants are more transparent so children understand what they are signing up to, and that there is a proper system put in place to help children with complaints and with the removal of content."
5Rights
5Rights takes the existing rights of children and young people (under 18), and articulates them for the digital world. Signatories to the 5Rights framework believe that young people should be supported to access digital technologies creatively, knowledgeably and fearlessly.
• The Right to Remove: That is the right to easily remove what you yourself have put up. It doesn't challenge Freedom of Speech, but the first rule of conscious use is being able to control what your history will look like online, in the space you curate.
• The Right to Know: That is the right to know who and what and why and for what purposes, your data is being exchanged. And a meaningful choice about whether to engage in that exchange.
• The Right to Safety and Support: What is illegal must be pursued by the law. But much of what upsets young people online is not illegal and support is sparse, fragmented and largely invisible to those children and young people when they need it most.
• The Right to Informed and Conscious Use: It is simply undemocratic that young people are looped in to technology that is deliberately designed to keep them attached, based on the same principles as casino slot machines.   "Addicting" is what product designers call it. 'Addicting' is what product designers work towards.
• The Right to Digital Literacy: Digital literacy means understanding the purposes of the technology that you are using.  Growing up as a CREATOR and contributor as well as an informed consumer. And having a clear grasp of the likely social outcomes of that use.
The full 5Rights framework is available here.